International Women's Day 8 March 2023 Since its inception, the Agripreneurship Alliance has structured its activities and policies around its commitment to advancing a key three of the Sustainable Development Goals: No Poverty, Zero Hunger, and Gender Equality. While the first two align cleanly with our core activities of training African youths to successfully launch their own agribusinesses, the third, Gender Equality, requires more deliberate consideration. This March 8th marks International Women's Day, providing an opportune moment to reflect on our efforts. Statistically, female entrepreneurs have an outsized impact on their communities when compared to their male counterparts. They are more likely to provide products and services of value to their communities, as well as spend their earnings on the wellbeing, health, and education of their families, generating positive feedback loops that contribute to the development of their communities and local economies[1]. However, in many countries, women and girls are denied access to education, financial independence, and land ownership, and in other countries still, inequitable gender dynamics result in soft barriers to women in the professional sphere[2].
The Agripreneurship Alliance aims to challenge the preconceptions that prevent women gaining access to, and success in, the business world. Our course materials are intentionally developed to include a balanced gender presence, from the people in the illustrations and images to the entrepreneurs in the case studies. The scoring matrix we use to evaluate business plan submissions includes a criterion for gender representation and policy. Our partner universities and institutions, where our flagship Entrepreneurship in Agribusiness course is implemented, are expected to aim for a target of 50% female participants, and we have seen a steady increase in female participation over the past 5 years. In 2022 38% of resulting businesses were led by women and 5 out of 12 winners of our Business Startup Award were female, and we expect this number to rise in 2023.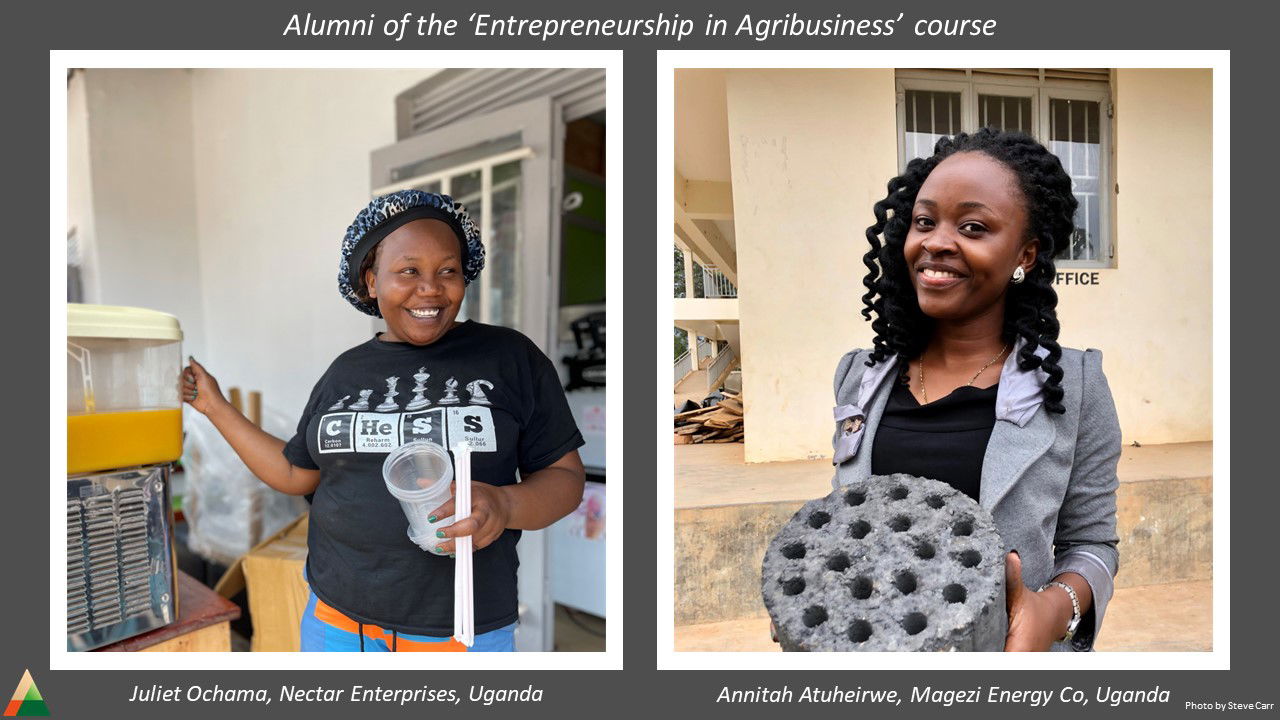 The UN's theme for International Women's Day 2023 is "DigitALL: Innovation and technology for gender equality", which is a pertinent concern for the Alliance. The Entrepreneurship in Agribusiness course is hybrid virtual/in-person and requires internet access as well as rudimentary digital skills to participate. In addition, we are also involved in developing and hosting online training sessions and webinars targeted towards agrifood MSMEs and smallholders. However, we are keenly aware of the digital divides which limit the reach of our activities, while also providing a more general obstacle to our sector of development as a whole. In particular, the disparity in internet usage and mobile phone ownership between men and women continues to grow in Africa[3], resulting in a lack of access to avenues of communication, market data, digital financial services, digital platforms, and information on best practices. Another outcome of digital marginalisation is the deprivation of skills required for the implementation of modern agricultural technologies, such as field sensors for monitoring soil quality and remote sensing technologies for data collection[4].
The consequences of digital exclusion are ubiquitous. The digital gender divide has a profoundly negative impact on the economies of the countries in which it persists and will only continue to worsen without intervention[5]. The Agripreneurship Alliance will continue to prioritise the inclusion of women in its activities and advocate for gender equality in the business world as well as the digital sphere.
Jade Gallat, Agripreneurship Alliance, 8 March 2023

---
[1] https://www.gemconsortium.org/news/Women%27s%20entrepreneurship%20continues%20its%20upward%20trend
[2] https://www.researchgate.net/publication/233670310_Impact_of_Gender_on_Difficulties_Faced_by_Entrepreneurs
[3] https://www.itu.int/en/mediacentre/backgrounders/Pages/bridging-the-gender-divide.aspx#:~:text=Of%20the%20estimated%202.7%20billion,compared%20with%2057%25%20of%20women. [4] https://www.un.org/development/desa/dpad/wp-content/uploads/sites/45/publication/FTI_Nov2021.pdf
[5] https://www.unwomen.org/en/news-stories/announcement/2022/12/international-womens-day-2023-digitall-innovation-and-technology-for-gender-equality