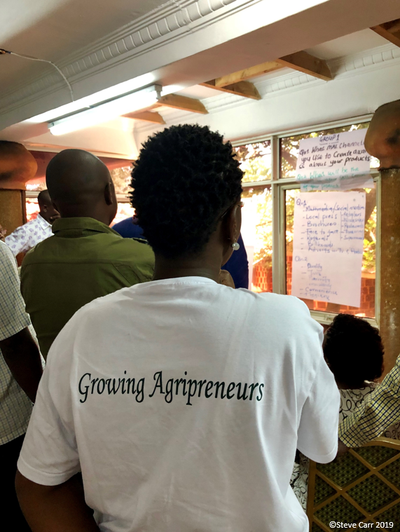 The Agripreneurship Alliance is a Swiss based non-profit organisation launched in 2017. Working with key partners, the Agripreneurship Alliance has developed a ground-breaking course that enables young African entrepreneurs within the agri-food sector to develop or enhance their business ideas and create a high-quality business plan to support the launch or growth of their agri-business.
This 'Entrepreneurship in Agribusiness' course is currently offered in French and English languages within nine universities in the Democratic Republic of Congo, Uganda, Kenya, Namibia and Somaliland and it has also been facilitated as an enhanced online course to participants across sub-Saharan Africa.
The Agripreneurship Alliance has also piloted an approach to reach out to emerging farmers and will be developing a programme based upon this approach that can support small-holder farmers and other rural groups 'at the bottom of the pyramid' to enhance and grow their businesses, moving away from subsistence and supporting the growth of the rural economy.
The Agripreneurship Alliance also acts as an advocate and thought leader for the African entrepreneurial sector and undertakes research for select clients including the UN Food and Agriculture Organisation.
In 2022, the Agripreneurship Alliance has taken its next step in its journey as an African focused international non-governmental organisation. We are now formally registered in Uganda and our new local team members are working from our base at CURAD in Namanve, Kampala.