Earth Day is an annual event meant to raise awareness of climate change and other environmental issues affecting our earth. The importance of Earth Day cannot be overstated. Climate change, pollution, deforestation, and other environmental problems threaten the well-being of our planet and its inhabitants. This is a reminder that we urgently need to dedicate our time and resources to protect the Earth and its resources.
Earth Day has also become a platform for promoting sustainable business practices in recent years. Many companies now use Earth Day as an opportunity to showcase their environmental initiatives and demonstrate their commitment to sustainability. This has led to increased awareness and the adoption of sustainable practices that strike a balance between environmental conservation, and social and economic progress.
This year's theme, "Invest in Our Planet," is a call to action for governments, organisations, and individuals to re-evaluate and reaffirm their commitment to investing in the health and welfare of our planet by preserving and repairing our environment.
Conservation and restoration of our environment require shared responsibility and action from all levels of society given the interconnectedness of our world. The good news is that we all can play a role in investing in our planet by, for instance, reducing our use of plastics, using public transport or cycling instead of driving, and eating more plant-based diets, practicing sustainable agriculture. We can also advocate for better environmental protection practices, participate in events, and sign petitions geared toward protecting the Earth.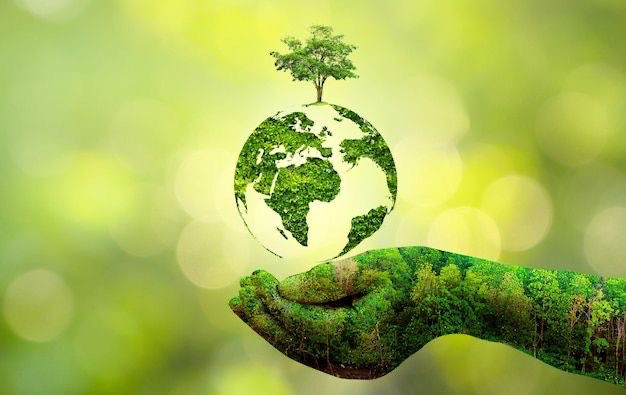 Image by @sarayut_w32 on Freepix
Businesses also have a role to play by using low to no carbon emission technologies and transitioning to a circular economy. Here, young entrepreneurs have an even greater role to play. They have an obligation to innovate and scale technologies and business models that protect the environment whilst doing social and economic good.
However, although many young entrepreneurs in Africa, where we work are aware of the challenges and opportunities that climate change brings, many are unaware of the current topics, approaches, and technologies to mitigate, and adapt to climate change or make us, our food and market systems resilient to it. Therefore, there is a need to invest in supporting education and awareness campaigns that help to raise their consciousness about climate change and environmental issues.
Cognizant of the foregoing need, the Agripreneurship Alliance with the generous support of ECOM is organising the 'Climate Change & the African Food Entrepreneur' – a webinar series that will engage with young African agri-food entrepreneurs focusing on key areas within the African experience of climate change, provide information and challenge and support the participants to further embed sustainability into business design. The Webinar series will be held from May through July 2023. We hope that the webinars will contribute to the knowledge and commitment of young entrepreneurs to protect and restore our planet's health and wellbeing.
May this Earth Day 2023 be a reminder of the importance of our collective efforts towards a more sustainable future and accelerate our efforts towards safeguarding the environment – protecting our planet for us and for generations to come!
Sheila Mary Bahonya, Agripreneurship Alliance, 22 April 2023