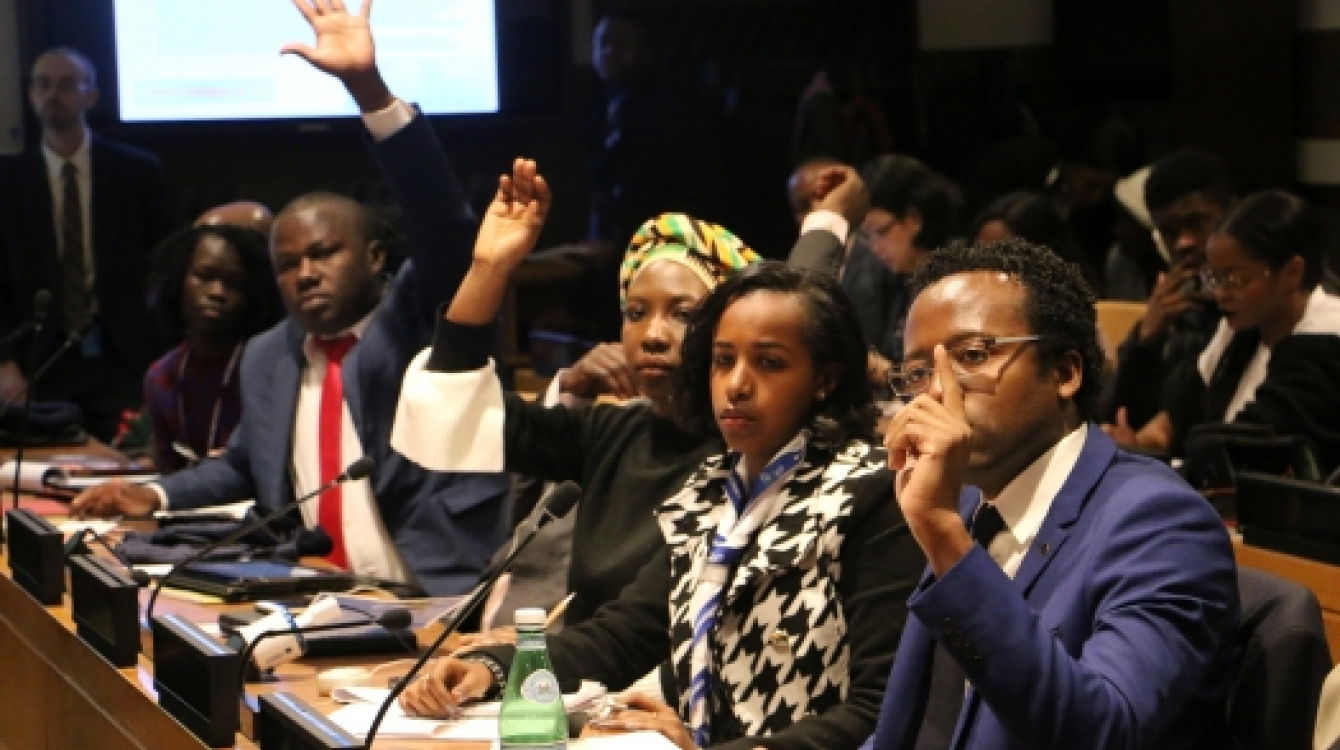 African youth participate in an international youth forum at the UN headquarters in New York. Photo credit: Africa Renewal/Shu Zhang
Africa Youth Day is a day to celebrate, reflect, and take action. It's an opportunity to honour the vitality, creativity, and potential of Africa's youth. Every year, on November 1st, we are reminded of how this day holds immense significance for the future of our continent. It is a day to recognise the contributions of the youths, address their challenges, and emphasise the need to empower and support them in building a brighter future for Africa.
This year the event will be hosted in Kampala with the theme "1 Million Next Level is Knocking: Youth-Led Movements That Transcend Borders".
Africa is a continent brimming with youthful energy. With over 60% of the population under the age of 25 years, our youth represent a potent force for change. They are the driving force behind the transformation of the continent and the realisation of the African Union's Agenda 2063 – "The Africa We Want." Today, we explore some of these remarkable youth-led movements that are transcending borders and making a significant impact across Africa.
The youth-led activities and engagements in different events such as climate activism, tech innovation, and agrifood systems are a growing force in Africa. These youth-led movements demonstrate that young Africans are not bound by geographical borders, they are breaking free from traditional constraints and working together to address common challenges, advocate for change, and shape the future of the continent. Through many ways, we can continue to support and amplify the voices of these young leaders who are making a difference across the continent and beyond.
Education is the key to unlocking the potential of Africa's youth. Access to quality education is fundamental in ensuring that our youth are equipped with the skills, knowledge, and opportunities they need to succeed. Investments in education must be a top priority for African governments and international partners. This includes not only primary and secondary education but also higher education and vocational training to provide diverse pathways to success.
Unemployment among African youth remains a critical issue. However, African Youth Day also offers a platform to explore the importance of fostering entrepreneurship and job creation. By supporting young entrepreneurs and small business owners, we can help combat unemployment and encourage economic growth. Governments and the private sector must create an environment that nurtures innovation and encourages youth-led businesses. Encouraging youth participation in governance processes is crucial for building a more inclusive and representative Africa. We must foster a political environment where young people can actively engage, offer solutions, and contribute to shaping the future of their countries. We have seen youths participate in the United Nations Climate Conference and many other conferences. One of the fundamental aspects of youth empowerment is gender equality. There is a need to highlight the importance of providing equal opportunities to young women. Empowering young women is not just a matter of justice but also a way to unlock the full potential of our continent. Africa can truly thrive when women and men have equal access to opportunities.
Agripreneurship Alliance through our programmatic course 'Entrepreneurship in Agribusiness' has empowered young African entrepreneurs within the agri-food sector. This course which is offered within nine universities in Africa Uganda, Kenya, the Democratic Republic of Congo, Somaliland and Namibia has created a network of micro and small businesses that positively impact local communities, building resilience and enabling young people to choose to build their lives in their home communities. We recently ran a series of impact stories of the young entrepreneurs who undertook our course from different universities and received business startup awards to scale their businesses. We continue to mentor and skill the upcoming entrepreneurs who will transcend borders.
While celebrating the potential of Africa's youth, we must also acknowledge and address the challenges they face. These include issues such as poverty, lack of access to healthcare, and the impact of climate change. As a continent, we must work together to create solutions that will enhance the quality of life for our youth and ensure a brighter future for all.
Sheila Mary Bahonya,
Agripreneurship Alliance